Falling in Love Again
Falling in Love Again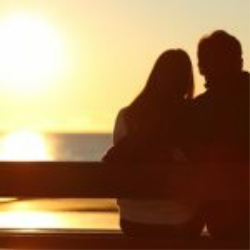 This hypnosis session is for you if you're ready to leave your past emotional baggage behind, embark on a new relationship and find love again.
It's commonly known that when relationships don't work out, they can leave a legacy of doubt and insecurity which make it hard to imagine ever finding happiness with the partner of your choice again, but once this phase passes, it's perhaps easier to consider how relationships sometimes run their course and, when they end, it's not a failure but a life lesson.
It's possible when taking this view to confidently approach the next relationship from the perspective of fully understanding your own needs better and avoiding the pitfalls previously encountered with the past.
No matter what stage in life you've reached, romantic love is life affirming. The feelings of it can be as strong at 90 as they were at 19 whilst hope and optimism ebb and flow according to circumstances.
So if you're single and want to be in a relationship and a couple again, then this hypnosis session will help dust off the old limiting beliefs and polish up your positivity so you can be open to the possibility of falling in love again.
Hear Karen talk about this session on YouTube here Falling in Love Again
Version Required
Mp3 Instant Download (0) CD Version Delivered (5)