Good Enough to Love
Good Enough to Love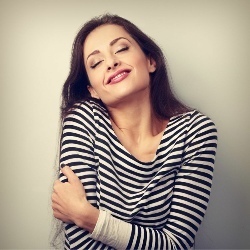 This audio session is for you if you're feeling insecure in your relationship or are alone and looking for love. It's an antidote to the critical thinking which can sometimes lead to self-doubt and the wondering of am I good enough to love.
If you worry about whether your appearance or personality are good enough to love, this can undermine your ability to find and keep a compatible loving relationship. Selling yourself short will only lead to disappointment if feeling second best makes you settle for second best.
Once you learn to appreciate all your best qualities, gifts and capabilities and, in effect, learn that old cliché of loving yourself, you'll start to attract the appreciation of others who value all your highest attributes and most attractive features. So, you will still be you, only happier in your own skin, with a sense of pride and self-worth which will help you make good choices in life and in love.
It's no good just telling yourself to think more positively about who you think you are. Beliefs and opinions about yourself which formed during your early developing years become part of your identity and are not that easy to shift.
However, in hypnosis, the subconscious can begin to accept new ways of thinking and feeling which can help you build self-esteem and confidence so you can be happier with who you are and who you choose to spend your life with.
Version Required
Mp3 Instant Download (0) CD Version Delivered (5)