Moving on from a Relationship
Moving on from a Relationship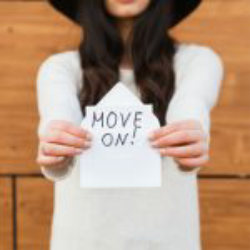 'Breaking up is hard to do' goes the song. And it's true, as is moving on from a relationship.
We perceive the end of a relationship as a failure, rejection or abandonment at the height of grieving over a painful loss. It's rarely considered as a positive thing, whether we're the 'dumper' (feeling guilty and relieved) or the 'dumpee' (bereft and insecure), there's a process of recovery which takes time.
This session will help you to understand whatever it is you need to learn to achieve the peace of mind to look forward to a brighter future, either alone or with a new partner.
It can help to take the time to reflect on what went wrong, where the problems lay, how things could have been different and what part you may have played in the break-up. Then, and this is sometimes the difficult bit, get over it and move on.
In the throes of misery and loneliness, it's all too easy to obsess about your ex instead of accepting that your relationship may have just run its course. We also have a tendency to mourn the loss of the relationship we wished it was, rather than the one it turned out to be.
So, if you've had enough of those unhelpful thoughts and feelings and want to feel more positive about yourself, self-hypnosis will help you shift that negative internal dialogue and replace it with confidence and optimism.
Hear Karen talk about his session on YouTube here Moving on from a Relationship
Version Required
Mp3 Instant Download (0) CD Version Delivered (5)